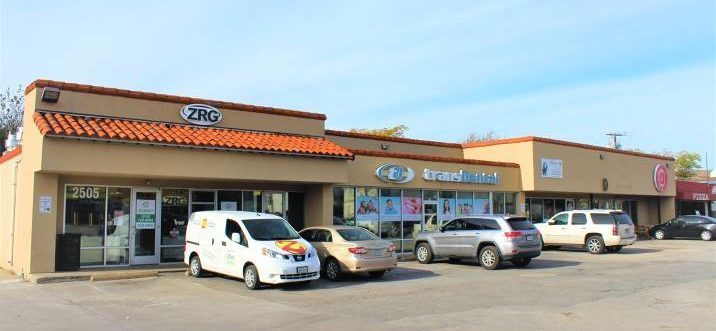 2505 Fitzhugh is a 7,909 square foot retail center in Dallas, Texas. The Property is located just minutes north of downtown Dallas on Fitzhugh Avenue east of Highway 75. Renovated in 2012, the Property has a complementary mix of tenants including Subway, Cricket Wireless, transDental, El Come Taco, Unique Beauty Salon and Eco Cleaners. Tenants have a staggered lease structure with an average lease expiration of August 2019. El Come Taco was awarded "10 Best Taco Spots in the U.S." by Fodor's in May of 2015. Within a one-mile radius of the Property is Uptown, Henderson Avenue, the Katy Trail, Lower Greenville, West Village and the Park Cities.
Situated in a dense infill location, 2505 Fitzhugh is in the heart of a thriving multi-family development corridor. Over ten new multi-family projects consisting of over 3,000 apartment units have been completed in a one-half mile radius, with additional projects planned or under construction. Across Fitzhugh Avenue to the west is the site of a future high-profile mixed-use development called JLB Fitzhugh, which will include approximately 350 apartment units and 22,500 square feet of retail on 5 acres at build-out. Three blocks east of the Property, Trammel Crow Residential is planning a 370 unit multi-family project, Alexan Henderson, which will transform an entire block into an urban rental community. One-half mile south of the property, Trammell Crow Company is developing a new Sam's Club project on 16.5 acres along Highway 75. Three and five mile population counts exceed 192,000 and 386,000 people respectively.
Three blocks north of the Property is Henderson Avenue, a major restaurant, bar and retail destination of Dallas. Annual TABC sales numbers on Henderson Avenue exceed $23 million. Henderson Avenue also has seen a recent wave of popular fashion tenants with omni-channel retailers Warby Parker and Bonobos opening in the summer of 2014. Recent leases include Knot Standard, a New York-based men's custom suit maker; Planet Blue, a Santa Monica-based beach apparel boutique; and Kit and Ace, a Canadian his-and-hers apparel shop with Lululemon family ties. It is reported that the majority of new leases signed for fashion and restaurant tenants on Henderson Avenue are over $30 PSF NNN.
Overall, 2505 Fitzhugh offered investors the opportunity to acquire a 2012 renovated retail center leased to a complementary mix of tenants in an infill location surrounded by exploding multi-family development activity. The property will be able to give investors an immediate cash flow on their investment with additional cash flow available as rent increases are achieved at market rates.