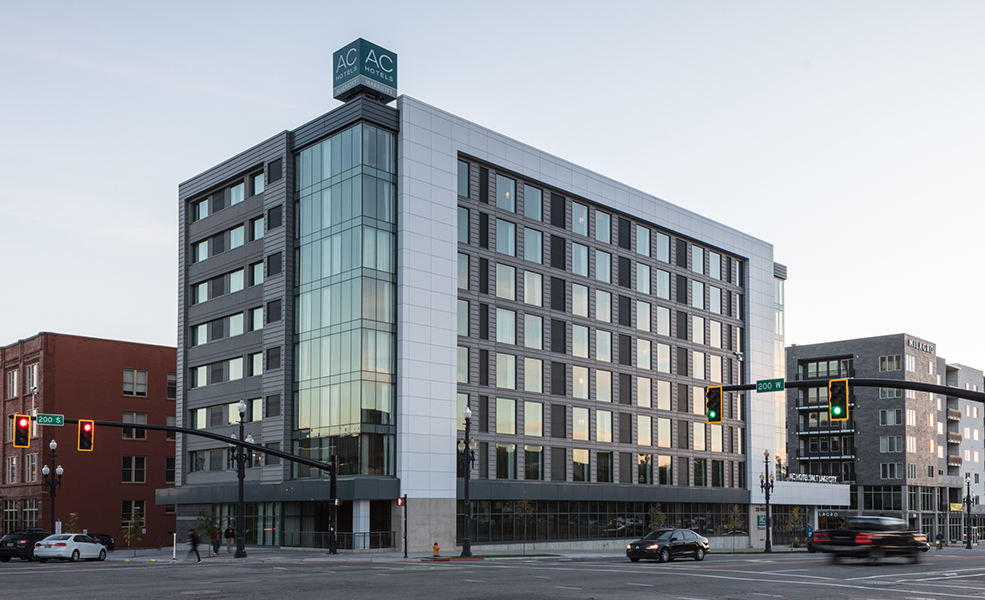 The AC by Marriott in Salt Lake City, UT is a  hotel development venture between Silverado Interests and Woodbine.  This is a .5-acre site within the 2.49-acre master-development consisting of 165 hotel keys, 170 apartment units with 16,000 square feet of street frontage retail and 475 parking stalls in a structure on the same block. The 2.49-acre development sits adjacent to the Salt Palace Convention Center, and within walking distance of City Creek Mall and Goldman-Sachs second largest American office.
The site enjoys an excellent downtown corner location with frontage along West 200 South and 200 West in downtown Salt Lake City. This location would afford excellent access and visibility within the downtown core. In addition, the site is within walking distance of several demand generators including the commercial business district, several performing arts centers, museums, parks, restaurants, retail stores, and other amenities which are conducive to the operation of a lodging facility.
The Salt Palace Convention Center, Salt Lake City's 679,000 square foot convention center is located on the block directly northeast of the proposed Subject site. Temple Square, Energy Solutions Arena, and the City Creek Center are all within easy walking distance from the site.
The Subject site is located approximately six miles from the Salt Lake City Airport and one mile from the Interstate 80/Interstate 15 interchange. The Utah Transit Authority provides public transportation which connects downtown Salt Lake City and the proposed Subject site with the airport and the greater Salt Lake City region. Several stations are located within one-half mile of the proposed Subject site.
Forbes recently ranked Salt Lake City No. 3 in their annual "Best big city for jobs" rankings and No. 4 in their countdown of "Best cities for young adults". The top industries are tech, finance and insurance, health care, and mining. Salt Lake is a hub for growth, Goldman Sachs' second largest office is in Salt Lake. Other companies like Fidelity, Key Bank, Wells Fargo, and Intermountain Health Care continue their growth into the Salt Lake Valley and are hiring young professionals. From August 2014 to August 2015, Utah led the nation in job growth at over 4%.
At the center of Salt Lake and surrounded by economic growth, there is demand for new upscale select-service hotels targeting young professionals. The AC hotel and apartments will fill this void. AC is designed for a sleeker more chic select service experience not currently offered in Salt Lake City.