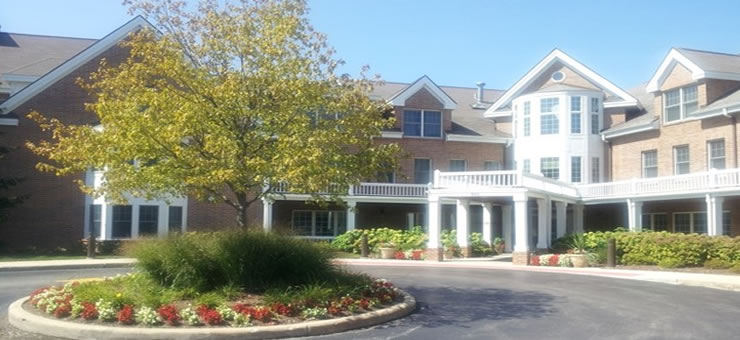 This project is the development of a 46-bed Alzheimer's facility located near the northeast corner of Higgins and Bartlett Roads in South Barrington, IL. South Barrington is known throughout the area for its extreme affluence, and is on the list of the 100 wealthiest towns in the nation. South Barrington boasts a median income of $176,271, and a median home price of $834,776. The average annual daily traffic count, according to the Illinois Department of Transportation, is 28,900 along Higgins Road near the site and 5,800 on Bartlett Road (north of the site). The Arboretum of South Barrington is a new lifestyle center offering shopping, entertainment, and restaurants. The Autumn Leaves location will be next to this upscale lifestyle center, and just west of the site are many different retail stores, restaurants, and activities. There is a good mix of commercial and residential uses along Lily Cache Lane. Nearby there are some big box retail stores, Allstate Corporate Campus, and Cabela's. St. Alexis Medical Center is just 2 miles southeast of the site, and just north of this site are single family homes, and east is undeveloped land. Located in the southern region is unincorporated Cook County land with an auto store currently but the area has a strong interest on annexing this property and promoting new development.
This project was begun in December of 2012, and is currently in development. LaSalle believes they will produce a 15% – 20% IRR for the investors in this property.
We were attracted to this project due to the strong track record of our partner, The Lasalle Group. LaSalle develops, builds and manages specialized assisted living facilities for people with Alzheimer's disease and other forms of memory impairment, and is solely focused on this niche. LaSalle's track record has provided for consistent success with Alzheimer's properties, maintaining occupancy levels close to 90 percent for all stabilized properties. LaSalle believes they will produce a 15%-20% IRR for the investors in this property.
This, the thirteenth memory care investment sponsored by Silverado, is being developed in a highly favorable supply/demand market. Specific to this project, South Barrington had an actual supply of 271 beds with a total projected need by LaSalle of 858 beds. This translated to the market being underserved by more than a three to one ratio and provided for an excellent investment opportunity. We believe, based upon LaSalle's projections that the opportunity to invest with a proven development partner, with whom we have had success in the past, in a market that is underserved provides the opportunity to create a successful investment opportunity for our investors.