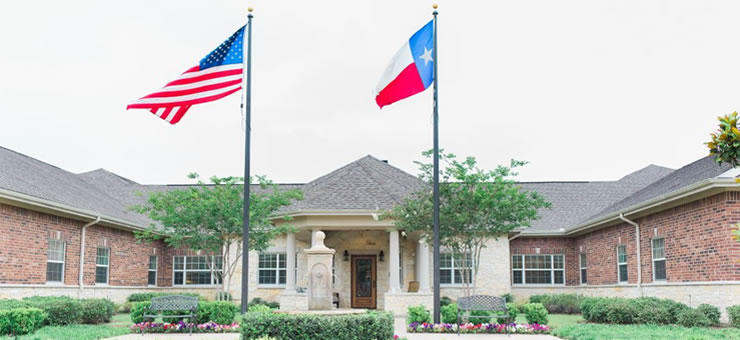 This project is the development of a 46-bed Alzheimer's facility located at the corner of Cinco Ranch Boulevard and Westheimer Parkway, adjacent to Redeemer Community Church and within close proximity to La Centerra and Cinco Ranch High School. The "over fifty five" residential community of Heritage Grand is located one mile west of the property. The site will front Westheimer Parkway which is a very well landscaped boulevard and is flanked by community retail uses, single family homes, and civic uses such as churches and the Cinco Ranch YMCA.. Cinco Ranch is an upscale master planned community that is characterized by its high-end homes which generally range in price from $300,000 to $600,000. The area is also enhanced by its golf courses including The Golf Club at Cinco Ranch and Willow Fork Country Club. Cinco Ranch is an 8,000 acre upscale master planned community that has experienced very strong growth in recent years. The Cinco Ranch area has recently been ranked as one of the nation's fastest growing master planned communities. The submarket has a median household income of $78,000 and a median home sale price of $190,000. This is one of the highest household incomes in Houston area. According to Site To Do Business, the daily traffic count on Cinco Ranch Boulevard immediately west of the site location is 11,500 vehicles per day.
This project was begun in June of 2013, and is currently in development. LaSalle believes they will produce a 15% – 20% IRR for the investors in this property.
We were attracted to this project due to the strong track record of our partner, with whom we had teamed up with on fifteen previous Alzheimer's projects. Our development partner's track record has provided for consistent success with Alzheimer's properties, maintaining occupancy levels close to 90 percent for all stabilized properties.
This, the sixteenth memory care investment sponsored by Silverado, is being developed in a highly favorable supply/demand market. Specific to this project, Cinco Ranch had an actual supply of 237 beds with a total projected need by LaSalle of 505 beds. This translated to the market being underserved by more than a two to one ratio and provided for an excellent investment opportunity. We believe, based upon LaSalle's projections that the opportunity to invest with a proven development partner, with whom we have had success in the past, in a market that is underserved provides the opportunity to create a successful investment opportunity for our investors.