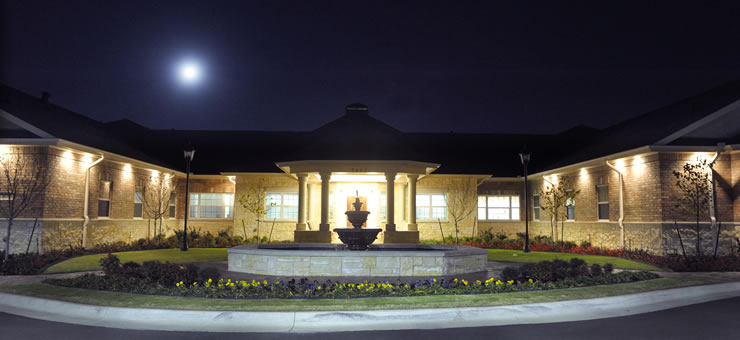 This project is the development of a 46-bed Alzheimer's facility that fronts Brinker Road, and is located approximately 530 feet northeast of the intersection of Colorado Boulevard and Brinker Road. The hard corner is Colorado Boulevard and Brinker Road which fits right into the community between S Loop 288 to the north, the Unicorn Lake retail development to the west, and Oakmont Country Club Estates and The Preserve at Pecan Creek subdivisions of single family residences on the south and east. The average list price of single family residences in these neighborhoods is roughly $217,000. Denton is an established municipality that is currently redefining itself as a very prestigious community that can support an upper-middle class demographic because the area is strategically located with so many connections to surrounding areas.
This project was begun in June of 2009, was completed in May of 2010, has reached stabilized occupancy, and was refinanced in May of 2012. At the time of the refinance investors had received a multiple of 1.4 times on their original equity and continue to receive consistent cash flow distributions going forward.
We were attracted to this project due to the strong track record of our partner, The Lasalle Group. LaSalle develops, builds and manages specialized assisted living facilities for people with Alzheimer's disease and other forms of memory impairment, and is solely focused on this niche. LaSalle's track record has provided for consistent success with Alzheimer's properties, maintaining occupancy levels close to 90 percent for all stabilized properties. LaSalle believes they will produce a 15%-20% IRR for the investors in this property.
This, the second investment sponsored by Silverado, was developed in a highly favorable supply/demand market. Specific to this project, Denton had an actual supply of 68 beds with a total projected need by LaSalle of 540 beds. This translated to the market being underserved by around an eight to one ratio and provided for an attractive investment opportunity.