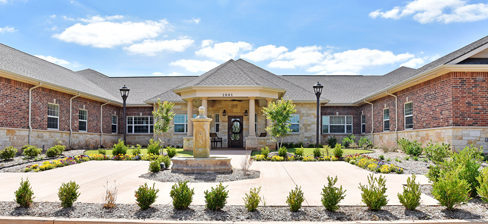 This project is the development of a 46-bed Alzheimer's facility located on Bryant Avenue in Edmond, Oklahoma which is a northern suburb of Oklahoma City. Edmond was listed as one of the "Top 100 Places to Live in 2007" by Relocate America. Edmond was selected the most outstanding community in its class for five years in a row by the State Chamber of Commerce and State Industrial Development Department. Edmond boasts a current population of just over 81,000, a median family income above $68,000, and a median home price of over $171,000. According to STDB the daily traffic count on Bryant Street at our location is just over 20,000 vehicles. The site is located in an established neighborhood that has retail, medical office, a hospital, office parks, a high school, high end single family homes and class-A multifamily developments. In the immediate vicinity of the site, there are complementary medical offices to the north, a popular water park to the east, and upper-income single family homes to the south and west. The land itself is surrounded with mature foliage that provides a noise buffer and will give the final product a park-like appeal.
This project was begun in December of 2012, and is currently in development. LaSalle believes they will produce a 15% – 20% IRR for the investors in this property.
We were attracted to this project due to the strong track record of our partner, with whom we had teamed up with on fourteen previous Alzheimer's projects. Our development partner's track record has provided for consistent success with Alzheimer's properties, maintaining occupancy levels close to 90 percent for all stabilized properties.
This, the fifteenth memory care investment sponsored by Silverado, is being developed in a highly favorable supply/demand market. Specific to this project, Edmond had an actual supply of 183 beds with a total projected need by LaSalle of 556 beds. This translated to the market being underserved by more than a three to one ratio and provided for an excellent investment opportunity. We believe, based upon LaSalle's projections that the opportunity to invest with a proven development partner, with whom we have had success in the past, in a market that is underserved provides the opportunity to create a successful investment opportunity for our investors.