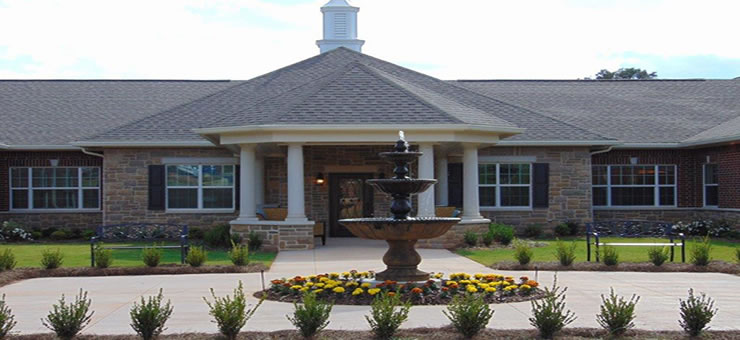 This project is the development of a 46-bed Alzheimer's facility located located in the City of Stockbridge near the I-75 and I-675 merge. 19.8 miles from downtown Atlanta, 13.5 miles from Hartsfield-Jackson International Airport, 9.0 miles from Southern Regional Hospital (331 Beds), 7.4 miles from Southlake Regional Mall and 3.4 miles from Piedmont Henry Hospital (215 Beds). The community will be located between I-75, to the east, and Lake Spivey, a 600-acre private lake, to the west. The site is located at the southwest corner of Walt Stephens Road and Monarch Village Way, an intersection with a traffic light. Walt Stephens Road is an east-west two-lane corridor connecting the two most populated counties in the southeast metro area, Henry and Clayton. Walt Stephens Road is the main corridor through the Spivey Lake community and has an average daily traffic count of 13,487 vehicles. The site is neighbored by a strip center, a residential community Red Oak Elementary School (825 students) to the south; and single family homes to the west. Per the 2010 Census, Henry County ranked 10th in the nation in population growth and as having the 3rd fastest growing population 65 years old and over in Metro Atlanta. The proposed site was selected specifically to target southeast Metro Atlanta. The defined sub-market has an estimated population of approximately 580,000 residents. The submarket includes the counties of Henry, which has a population of 207,973 residents, and Clayton, which has a population of 258,444 residents. It also includes a small portion of the counties of Fulton and Dekalb. Within the targeted submarket is the unincorporated community of Lake Spivey, the largest and most affluent community in southeast Metro Atlanta, with over 5,000 homes. Homes at Monarch Village, range in price from the $100's to the $300's. Monarch Village was developed to target families and empty nesters. The estimated median household income of the combined area of Spivey Lake and Monarch Village is $87,108. The combined area has over 6,500 homes.
This project was begun in August of 2013, and is currently in development. LaSalle believes they will produce a 15% – 20% IRR for the investors in this property.
We were attracted to this project due to the strong track record of our partner, with whom we had teamed up with on sixteen previous Alzheimer's projects. Our development partner's track record has provided for consistent success with Alzheimer's properties, maintaining occupancy levels close to 90 percent for all stabilized properties.
This, the seventeenth memory care investment sponsored by Silverado, is being developed in a highly favorable supply/demand market. Specific to this project, Cinco Ranch had an actual supply of 73 beds with a total projected need by LaSalle of 844 beds. This translated to the market being underserved by more than an eleven to one ratio and provided for an excellent investment opportunity. We believe, based upon LaSalle's projections that the opportunity to invest with a proven development partner, with whom we have had success in the past, in a market that is underserved provides the opportunity to create a successful investment opportunity for our investors.