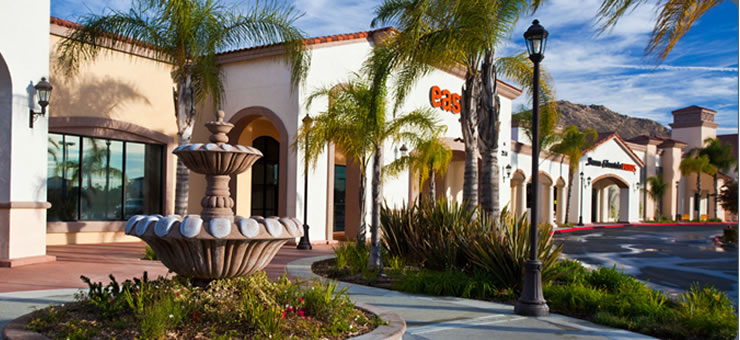 Canyon Crossings is a freeway-adjacent, vibrant power center with a national tenant lineup located in an infill market in the City of Riverside. The 690,000 square foot master planned retail project (295,949 square feet in this investment) is shadow anchored by a new Walmart Supercenter (NAP) and is anchored by Toys/Babies "R" Us, John's Incredible Pizza, MOR Furniture for Less, and Staples. Constructed in phases between 2006 and 2008, the Property has been institutionally managed and maintained since completion resulting in little need for capital improvements in the near future. Currently 90.9% leased, the Property features solid in-place income with substantial upside through the additional development or sale of six (6) pad sites entitled for 37,900 square feet of retail and restaurant space. With exceptional visibility from two highly travelled freeways, the Property garners exposure from over 250,000 daily motorists.
INVESTMENT HIGHLIGHTS
WALMART SUPERCENTER: 
The center is shadow-anchored by a 185,000 square foot Walmart Supercenter which just opened in September 2012 and has become a significant demand generator to the center. The 45,000 square foot grocery component acts as a catalyst to drive daily needs traffic to Canyon Crossings.
NATIO NALLY & REGIONALLY RECOGNIZED TENANT ROSTER: 
The Property boasts a rent roll that includes a healthy mix of national brand tenants such as Staples, Toys/Babies "R" Us, Party City, Mor Furniture, Sleep Train Mattress, and Jason's Deli. It also benefits from a strong roster of shadow tenants including Walmart Supercenter, LA Fitness, Target, Costco, Smart & Final, Best Buy, Michaels, Bed Bath & Beyond, PetSmart, Lowe's and Sam's Club.
STABLE CASH FLOW WITH LIMITED ROLLOVER EXPOSURE:
The project is currently 90.9% leased with only 29.6% of the leasable area expiring through 2019. Additionally, the center's three largest tenants, which make up 57% of the rentable square footage, do not expire until after 2020.
NEWLY CONSTRUCTED, INSTITUTIONALLY MAINTAI NED POWER CENTER:
The center was completed in phases between 2006 and 2008 and has since been institutionally managed and maintained. As a result, the center will require little to no capital improvements and repairs in the near future.
IMPROVING FUNDAMENTALS IN THE RESIDENTIAL MARKET:
As of March 2013, median home prices in Riverside County have increased 22.5% year-over-year. According to Moody's, the county issued 5,877 new single-family home permits in 2012, which was up 74% from 2011.
UPSIDE THROUGH PAD DEVELOPMENT:
The center includes six entitled land pads with the potential to build 37,900 square feet of additional retail and restaurant space. This land provides ultimate flexibility as it can be developed, ground leased or sold off separately to lower investors' overall cost basis.
HIGH-TRAFFIC CORNER LOT WITH EXCELLENT ACCESSIBILITY:
Strategically located at the junction of Interstate 215 and Highway CA-60 and only minutes from Highway CA-91, Canyon Crossings enjoys convenient access from every direction and tremendous exposure from over 250,000 daily motorists.
PROXIMITY TO UNIVERSITY OF CALIFORNIA, RIVERSIDE:
In addition to servicing the communities of Moreno Valley and Riverside, Canyon Crossings is ideally located just three miles south of the University of California, Riverside, a widely known commuter school which has a total enrolment of 20,000 students.