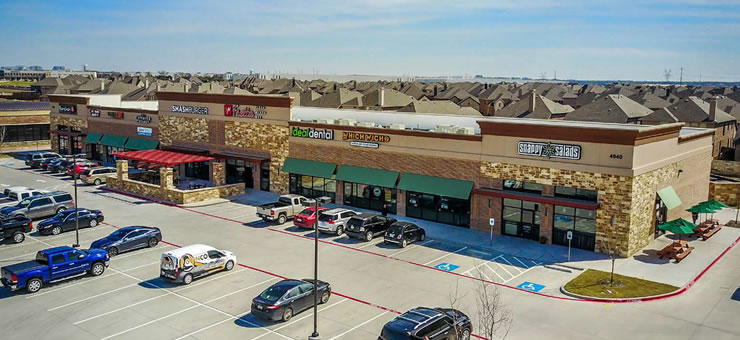 The acquisition and development of 2.6 acres into a 19,171 square foot retail center. The property is located on 121 and Josey, just west of the North Dallas Tollway, and located in the Castle Hills Master Development. The surrounding properties are filled with the likes of Target, Kroger, Nebraska Furniture Mart, Starbuck's, and more. The subject area has over 95% occupancy with rents ranging from $35-42 per square foot NNN at comparable properties. At the time of closing, the Sponsors had LOI's at these rates totaling 70% of the space.
The subject property is located on 2.6 acres fronting Hwy 121 just west of the Dallas North Tollway. This area has become one of the hottest locations in the DFW Metroplex. Castle Hills Crossing will be a new upscale shopping center located in the middle of one of the most explosive sub markets in North Texas. The center will be sandwiched between a successful Super Target center with a very busy 24 Hour Fitness and a brand new Studio Movie Grill to the west and the ever so popular Nebraska Furniture Mart to the east. A very successful Top Golf, Colony High School and Five Star soccer and baseball complex are located directly across the street. The shopping center will have high facades with great visibility to SH 121 and ample parking and patio opportunities for restaurants.
HWY 121 has over 90,000 vehicles per day passing the site, and Josey Lane has over 49,000 vehicles per day. Nebraska Furniture will have over 2,000 new employee's, along with all the other big box retailers. Castle Hills will be developing over 325 single family lots directly south of the subject site. There are also many other residential developments that will feed the retail in this area.