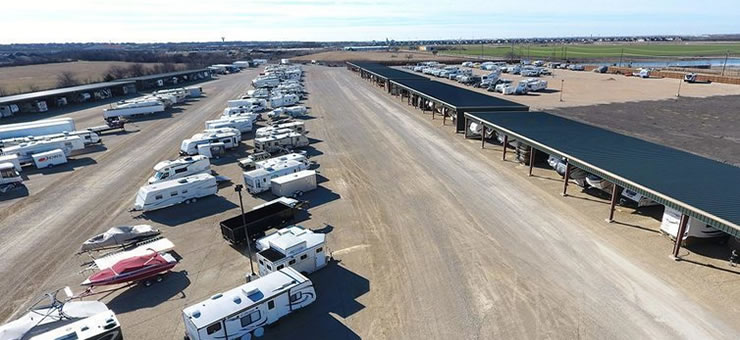 This opportunity was for the acquisition and expansion of a premier RV and boat storage facility located at 4022 Prairie Crossing in Celina, Texas. The Property comprises 513 covered and uncovered spaces encompassing 235, 695 square feet and represents an opportunity to:
Acquire stable, existing cash flow at an attractive cap rate;
Monetize underutilized land through expansion;
Implement best-in-class storage practices, with a focus on revenue management and reservations systems, into a highly fragmented, mom-and-pop market;
Participate in a robust RV industry sales market, which has experienced 15% annual growth since 2009; and
Achieve attractive returns from the self-storage investment market, which historically has provided steady returns.
Value-Add Overview
Our partner intends to implement the following value-enhancement strategy immediately upon acquisition:
"Mark to market" the existing 513 spaces which have asking rents set at 72% of market. Given that the submarket is 100% occupied with wait lists at most properties, raising rents to match rates already being achieved by competitors is extremely low hanging fruit.
Add 217 new covered spaces to accommodate unmet demand. 100% occupancy of covered spaces in the submarket, combined with extensive wait lists, indicates that demand exceeds supply and our newly-built product should benefit directly.
Monetize non-utilized land. The Property currently has over three acres of vacant land producing zero income. This area will be improved and provide Non-Covered Space options for current tenants who will be displaced to make room for the Covered Space expansion. Impact to Revenue can be viewed a few different ways, but the primary benefit is having little to no downtime of newly-built Non-Covered Space since the final number of Non-Covered Spaces is being reduced.
Install an automated leasing/management kiosk to streamline leasing and operations. Long-term, a kiosk will provide the primary point of contact for current and future tenants given the low frequency of leasing/turnover at RV Storage properties; short-term, however, we assume that part-time help will be needed during lease-up.
Generally, enhance security, amenities, curb appeal, and controlled access to the Property.