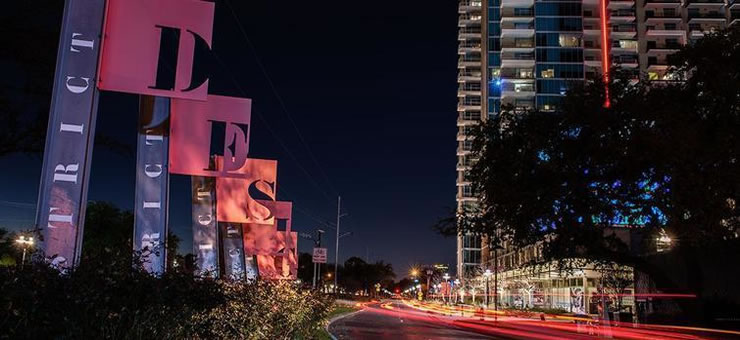 In a city full of fascinating neighborhoods, the Dallas Design District has carved out an identity all‐its‐own. It is different! There are no chains or national retailers here. The Dallas Design District, a key piece of Dallas' cultural fabric, is comprised of its namesake interior design showrooms, art galleries, fine dining establishments and most recently, luxurious apartments and a vibrant live‐work‐play community. Individuals and wealthy families have even started to snatch up real estate in this high profile area for personal investment and adaptive use projects. Don Henley, the famous musician and member of the renowned band, Eagles, purchased a small, nondescript building and has converted it to a personal recording studio. The Karpitas family, a wealthy Greek family who made their fortune in the shipping business, purchased 1532 Hi Line Drive in the heart of the Dallas Design District and is in the process of restoring the building and renovating the interior to serve as a private family office and art gallery.
The Dallas Design District is where it's at. Everything cool, everything new and everything artsy is happening here. Located at the heart of the city, the "Dallas Design District" has come from a "to the trade only" warehouse district to a hip, blossoming community that attracts life and creativity. It's known as a thriving and eclectic community that offers residents many shops, boutiques and bistros, as well as access to over 370 shops and art/design showrooms.
The Dallas Design District investment is a venture between Silverado Interest, and Dunhill Partners. This was an opportunity to invest in a large portion of the retail space in the area, specifically 693,752 gross leasable square feet on 33 acres of land. At the time of acquisition the overall project was 84 percent occupied, presenting the ability for Dunhill to add value through new leases, as well as renegotiating existing leases. Two plus acres were not factored into the purchase price which also create a potential value add development opportunities.