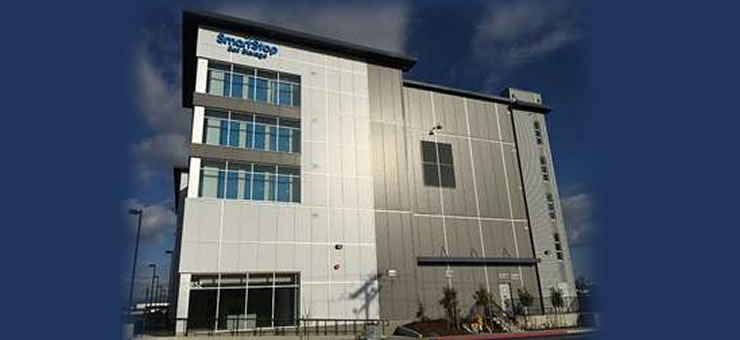 This opportunity was for the acquisition of an existing Class "C" self-storage property, to be demolished and developed into an institutional quality class "A" climate-controlled self-storage facility. The 1.13-acre site is in Escondido, California which is a high barrier to entry Northern San Diego County market. The subject property is strategically positioned at the intersection of I-15 and Highway 78.

The existing structure will be demolished and replaced by a 131,380-gross square foot institutional quality climate-controlled building. The project is currently zoned for self-storage.
The Property
The 1.13-acre subject property is located at 852 Metcalf Street Escondido, California 92025. The subject property is in a highly desirable infill location immediately south-east of the I-15 and Highway 78 interchange. The subject property is visible from north-bound I-15 (to the east) and east-bound Highway 78 (to the south). The subject property is most easily accessed from the Centre City Parkway off-ramp off Highway 78, just east of I-15. The subject property is also easily accessible from several city streets including W. Mission Ave, a major thru-street in North San Diego County. The existing improvements will be demolished and a new multi-story self-storage facility of approximately 131,380 GSF will be built. The new building will be more than thirty feet high (three stories) and will be visible from both the I-15 and Highway 78. High traffic count (195,00-207,000 vehicles daily on the I-15 and 55,000-162,000 vehicles daily on Highway78) further enhances the site's potential. The site is surrounded by primarily residential (to the north) retail establishments (to the east) and retail and industrial (to the south and west). The subject property's location and planned design/construction make it an ideal development opportunity for a modern state-of-the-art climate controlled self-storage facility. 
Demographics 
Escondido was incorporated in 1888 and is in San Diego County's North County region. It is considered a bedroom community to San Diego located 30 miles northeast of downtown San Diego. As of 2014 the city's population was approximately 150,243, making it one of the largest cities in San Diego County. Escondido is bordered by the city of San Marcos to the west (population of approximately 93,000 in 2014) and by the community of Rancho Bernardo to the south (population of approximately 89,000 in 2014). Significant portions of both San Marcos and Rancho Bernardo lie within the 5-mile radius from the subject property. The 2014 median household income was $60,641. As of the 2014 United States Census the population of San Diego County was 3,263,431 making it the second-most populous county in California and fifth-most populous in the United States. Its county seat is the city of San Diego, the eighth-most populous city in the United States. 
Economy 
Residents of Escondido work in a range of industries. Out of approximately 64,000 employed residents over the age of 16, 15% work in educational, health care and social services; 13% in retail trade; 13% in construction; 12% in professional, scientific, management, administrative, and waste management services; 11% in arts, entertainment, recreation, and accommodation and food services; 11% in manufacturing and 11% in other services. Per the City's 2013 Muni services the top five employers in the city of Escondido are as follows:
Palomar Medical Center – 3,045 employees
Escondido Union School District – 1,900 employees
City of Escondido – 1,101 employees
Welk Group Inc. – 1,000 employees
San Diego Safari Park – 967 employees.
Palomar Medical Center (which opened in 2012) is in west Escondido near the I-15/Highway 78 interchange and is the only designated trauma center in northern San Diego County. 
The Property and the Competition 
The population within the subject property's 1, 3, and 5-mile radius is 12,814, 141,542, and 219,767 respectively. The business plan for the subject property is to develop a Class A multi-level, climate controlled self-storage facility consisting of 131,380 SF of gross building area. This will yield approximately 97,635 SF of climate controlled NRA. This analysis assumes a 1,200 SF office area, and 1,083 self-storage units. There are eleven competitive self-storage properties within the 3-mile radius of the subject property and these properties would be inferior to the proposed project and range in quality from a "C" to a "B+". The market is primarily non-climate controlled space with only two properties (U-Haul located .2 miles from the subject property and CubeSmart located 1.6 miles from the subject property) offering climate controlled space in the market. 
Other competitive properties include a Security Public Storage facility located 1.0 miles from the subject property, a Storage West facility located 1.6 miles from the subject property, and another CubeSmart facility located 2.3 miles from the subject property. There are six additional non-REIT/Public facilities within three-miles. Current model pricing assumes a 15%-20% premium for climate-controlled space over current ask rates for comparably sized non-climate controlled spaces currently available in the market. Due diligence indicates that competing properties within three-miles are currently leased at levels of 90% or greater. Assuming 54,000 SF of NRA for all properties, but for the 120,000 SF of NRA for the CubeSmart facility located 1.6 miles from the subject property, the self-storage space in the 3-mile radius is estimated at 660,000 SF, or 4.66 SF per capita, indicating a significant development opportunity. Given the 1) high barrier to entry, 2) strong 3 and 5-mile population density, 3) excellent traffic counts, 4) inferior quality of competition, 5) visibility and 6) favorable growth trends in the overall MSA, the subject property represents a highly compelling self-storage development opportunity.