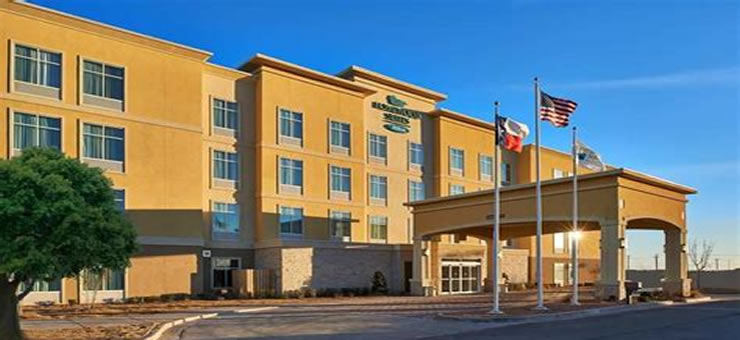 The Homewood Suites in Odessa, TX is a venture between Silverado Interests, and Texas Western International. It is anticipated to open fall of 2014. This project will contain 121 rooms, four stories with 83,168 square feet of internal space, and be located on 2.33 acres. The property will be located along Highway 191 frontage, between Billy Hext Avenue and Faudree Road in Parks Lugado Town Center. It will include a business center, exterior swimming pool, fitness center, outdoor living area, covered patio, guest laundry, and a market.
Recent developments in new oil field technologies are allowing energy companies to unlock significant amounts of crude oil that heretofore have been impossible to produce. The Permian Basin is especially attractive because its oil reserves, the second largest in the United States after Alaska, are already proven, and its geology is well known. That allows companies to update old wells with new technologies, and add new reserves at a significantly lower cost than in other areas. Additionally, these new technologies are enabling companies to target deeper, tighter rock formations that were previously not thought of as reservoir-quality rock. In short, the new technological advances have resulted in a Permian Basis revival, and producers anticipate this trend will continue for the foreseeable future.
Realizing the aforementioned technological advances would spur increased oil field development, Western entered this market in November 2008 with a Residence Inn by Marriot in Midland, TX, followed by a Marriot TownePlace Suites in Odessa, TX, in March of 2009. Free-and –clear returns from operations on these deals for 2011 were, approximately, 21 percent for the Residence Inn Midland, and 20 percent for the TownePlace Odessa. The market for lodging in the Midland-Odessa area has improved at a rapid pace, and continues to show amazing growth. New supply is limited with current financing constraints. The primary risk in sustaining the current economic growth is the price of oil. The energy industry is suggesting the economics will work to a threshold of $60 per barrel. Also noteworthy-although the bulk of business is energy related, the Midland-Odessa combined population is about 250,000. This population's base is supportive of weekend sports, leisure and social business into which Western has made inroads by virtue of ongoing operations.