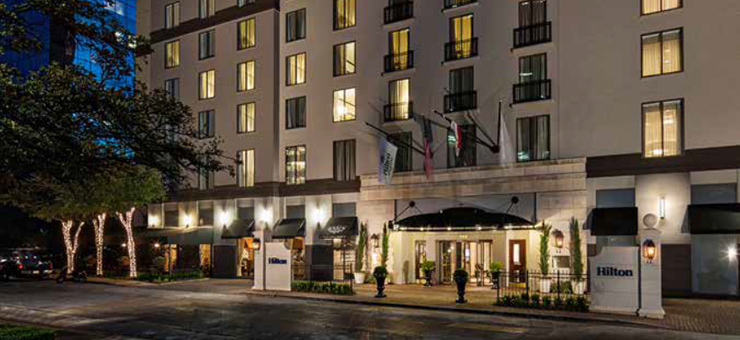 The Hilton Park Cities in Dallas, TX is a venture between Silverado Interests, and Woodbine. It is for the acquisition of an existing 224-room Hilton Hotel, located in the heart of Preston Center, the cities prestigious office district. The 11-story Property sits on approximately one acre on the south side of Luther Lane in the center of the block, between the Dallas North Tollway and Douglas Avenue. The Hotel's parking is provided via an adjacent, six-story parking garage (owned), which stretches the entire length of the Property to the south. The parking garage is attached to the main hotel structure at the first floor and detached from the second to sixth levels.
The Hilton offers guests a wide array of guestroom accommodations, including 18 oversized king-bed configurations of at least 455 SF. The Superior Alcove King room provides an L-shaped configuration with a sectional sofa and dining area. The Deluxe King room includes a queen sofa bed and coffee table. The Presidential Suite, located on the Hotel's 10th floor, spans 1,000 SF and offers a separate living area and upgraded, generously sized bathroom. Guestrooms are located on the floors 2 through 11, with executive level rooms offered on 9 and 10 (offering complimentary access to the 10th-floor Concierge lounge).
The Hotel features several food and beverage options, including a traditional full-service restaurant, lounge-style lobby bar serving food, Hilton HHonors lounge, and in-room dining
The Hilton offers 10,259 SF of total function space, most notably the 4,000-SF Beverly Ballroom, which is divisible into three sections. The remaining meeting space is comprised of an additional 10 meeting rooms ranging from a 336-SF Normandy Boardroom to a 1,180-SF McFarlin Room. With such a wide range of flexible function space and the ability to accommodate groups up to 433 guests, the Hilton is incredibly well positioned to continue to benefit from the dense Preston Center corporate demand base.
Opened in 2001, the Hilton's generously sized guestrooms are 25+ years newer than the average competitive set guestroom. Following a $6.6-million (29,442/key) renovation in 2012/2013, the Property was awarded a renovation of the year designation from Hospitality Design.
The Hilton's access to a market-leading loyalty program and worldwide distribution system is a major competitive advantage. With over 4,600 hotels and resorts in its system spanning 100 countries and territories worldwide, Hilton is arguably the industry's most preferred brand.