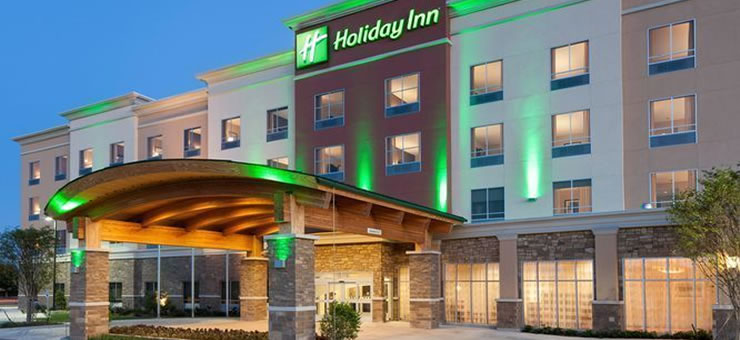 The Holiday Inn in The Colony, TX is a venture between Silverado Interests, and Texas Western International. It is anticipated to open at the beginning of 2016. This project will contain 122 rooms, four stories with 72,978 square feet of internal space, and be located on 3.028 acres. The property will be located in the southeast quadrant of the city, near Highway 121. The physical address is 4301 Paige Road, The Colony, TX 75056. The location is near the intersection of Paige Road and Highway 121, directly across from the new Nebraska Furniture Mart, which features a regional shopping center anchored by Wal-Mart on 90 acres of land. The site is in close proximity to several other premium brand competitors, and will serve as the "hub" for hospitality, retail, restaurants and entertainment for The Colony. It will include a covered drop-off, meeting room, pre-function space, covered pre-function outdoor patio, bar, restaurant, e-bar (business center), market, fitness center, outdoor covered patio, outdoor pool, guest laundry, room service, bicycle parking, and connection to the city bike/jogging parkway.
Massive development is planned for The Colony and Frisco, TX. Nebraska Furniture Mart broke ground September 25, 2012, on a $1.5 billion, 433 acre complex along state Highway 121 between Plano Parkway and West Spring Creek Parkway. The complex will be anchored by a 1.86 million-square-foot Nebraska Furniture Mart building, which will include a 600,000 square-foot showroom. The footprint for Nebraska Furniture Mart of Texas will be equivalent to 40 football fields and will sit on approximately 90 acres. It will be part of the largest retail and entertainment destination of its kind in North America when the store opens in 2015. Nebraska Furniture Mart is expected to attract over 8 million visitors and generate $600 million in sales annually.
In addition to Nebraska Furniture Mart, the Dallas Cowboys have announced that they will be relocating their HQ's from Irving, TX in a 91 acre development that will include a 12,000 seat indoor stadium with two outdoor fields. 25 acres are designated for the Cowboys and 66 acres for retail and restaurants.