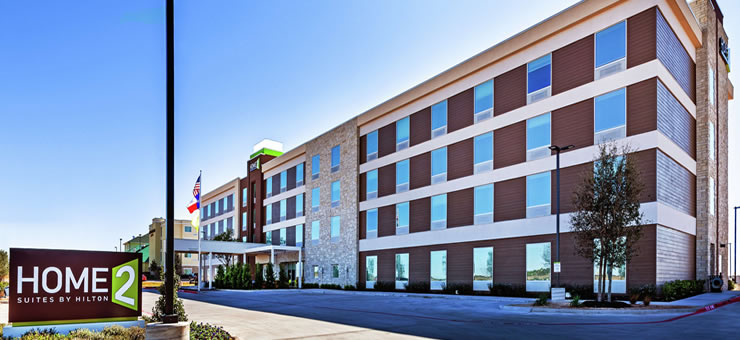 The Home2 Suites in Abilene, TX is a venture between Silverado Interests, and Texas Western. It is for the development of a 111 key Home2 Suites hotel.
Abilene is located in west Texas, approximately 150 miles west of Ft. Worth. It is the county seat of Tylor County with a population of approximately 122,225. Originally established by cattlemen as a stock shipping point on the Texas and Pacific Railway in 1881, the city has evolved into the commercial, retail, and medical center of the 19 county area known as "The Big Country". Presently the economy is largely fueled by the education, healthcare, government, and manufacturing sectors. Petroleum and wind power industries are also prevalent in the surrounding area.
The Abilene metropolitan area currently maintains an inventory of approximately 3,157 rooms. The "upscale" market segment consists of the following properties: Hampton Inn & Suites, Hampton Inn, Residence Inn by Marriott, Hilton Garden Inn, Courtyard by Marriott, and Marriott Courtyard/TPS dual brand hotel comprising 626 keys; 20% of the market total. Average REVPAR for those properties in 2017 – $75.35 (Texas Hotel Performance Factbook 2018 1st Quarter Report).
The Home2 Suites by Hilton brand Launched in 2009 as a mid-tier all-suite extended-stay hotel concept designed to compete with Marriott's TownePlace Suites brand. One of the fastest growing brands in the history of Hilton, there are presently 283 plus or minus HOME2 hotels in the system, evenly distributed throughout the U.S. HOME2 offers complimentary breakfast, laundry, and fitness areas, complimentary Wi-Fi Internet areas, multiple outdoor spaces, 24-hour business center, expansive community spaces and a pet-friendly environment.
The property will be located in the north east quadrant of the city, fronting I-20. Physical address 2109 Scottish Road, Abilene, Texas 79601. The location near the intersection of I-20 and Hwy 351 which features a regional shopping center anchored by Wal-Mart. Restaurants located in the center: Jason's Deli, Chili's, Cracker Barrel, and Chicken Express. The site is in close proximity to several other premium brand competitors which, in our opinion anchors the area as "The Hospitality" center of Abilene. In summary, the site offers high visibility from I-20, with convenient access to area highways, dining establishments, and shopping.