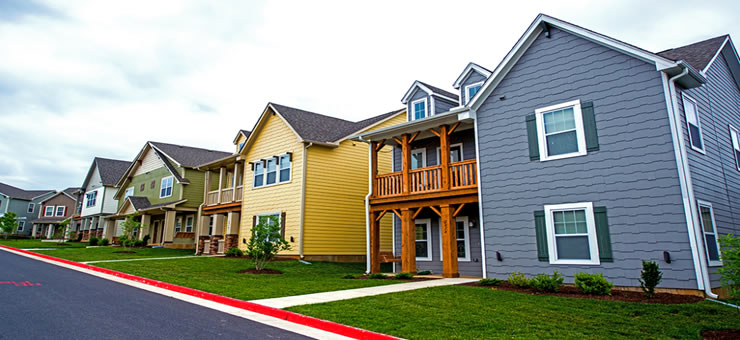 The student housing project at James Madison University is one of six projects in Aspen Heights Fund (2013), LP a partnership in which Silverado invested with Aspen Heights. This is the development of a 600 bed cottage-style student housing development in Harrisonburg, VA. It is a 23 acre site and is less than two miles from the James Madison University campus.
James Madison University ranks 6th out of the 90 schools in the U.S. News and World Report's Regional University South. From 2008-2010, year-over-year enrollment growth averaged 2.5% with undergraduate enrollment reaching 17,900 in 2011. Total enrollment is expected to continue to rise with over 22,000 freshman applicants annually. While the overall average occupancy for off campus student housing is 94% in the Harrisonburg area, the closest comparable communities to the Aspen Heights product have maintained 100% occupancy while commanding a rental premium and rental rate increases over the past two years. The site is located off Port Republic Road just south of the University's campus. The site provides easy access to campus and to Harrisonburg's retail and entertainment district.
JMU's freshman retention is high at 91%. Enrollment is projected to grow steadily over the next few years reaching 20,000 by 2015.
Enrollment Information
| | |
| --- | --- |
| Undergraduate: | 17,900 |
| Graduate: | 1,822 |
Market Statistics
| | |
| --- | --- |
| Overall Area Occupancy: | 94% |
| Average Rent: | $481 |