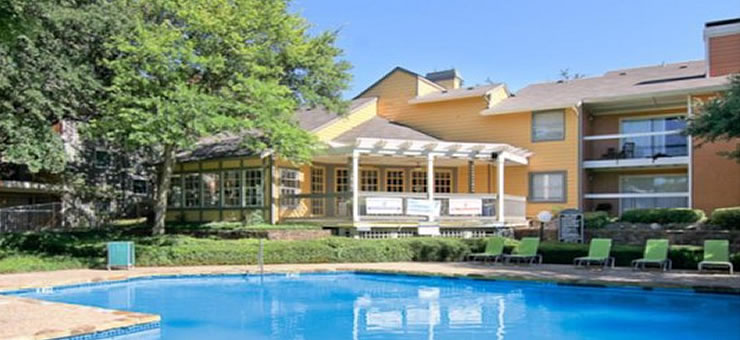 Lake Highlands Landing in Dallas, TX is a venture between Silverado Interests, Pennybacker Capital and Uptown Enterprises. This is one of two investments by Silverado with Uptown Enterprises for the redevelopment of existing multifamily. Lake Highlands Landing is a 326-unit apartment community located in the North East Dallas submarket. Originally constructed in 1983, this Class B asset was extensively renovated in 2010-2011 and is in excellent physical condition. When The Azul was acquired, it was operating poorly and in need of significant repair. After more than $2.7 million in capital improvements to the property, Lake Highlands Landing has become one of the premier properties in the submarket and the financial performance is excellent. Recently stabilized, the NOI in June 2012 was 154 percent higher than the NOI in June 2011, demonstrating how successful lease up has been.
One of the primary differentiators within the submarket for Lake Highlands Landing is their amenity package, which is more typical of a Class "A" community. Lake Highlands Landing enjoys excellent visibility with great frontage along the highly traveled Forest Lane road. Located in North East Dallas in an area known as Lake Highlands, residents enjoy convenient access to Interstate 635, Highway 75, and the DART light rail station, which is just one-quarter of a mile away along the walking path adjacent to the property. Further, Lake Highlands Landing is situated in the award-winning Richardson Independent School District, which has earned a "Recognized" designation by the Texas Education Agency (TEA) for five consecutive years. Richardson ISD was also named to the Texas Business and Education Coalition Honor Roll for the third time in four years, placing the district in the top four percent of public schools in Texas. Richland College is located less than one mile north of the property; with an enrollment exceeding 20,000 students, it is the largest of the Dallas County community colleges.
There are several nearby apartment communities that have recently been or are in the process of being repositioned. Lake Highlands Town Center, located approximately two miles south of The Azul, will be a landmark mixed-use development with more than 300,000 square feet of retail and 50,000 square feet of office space, along with new multifamily development. Timber Creek Crossing, a 44-acre retail complex which opened in 2011, anchored by Walmart, Sam's Club, and JCPenney, is located less than four miles south of the subject. The Park Lane mixed-use development, which opened in 2009, is located approximately four miles southwest of The Azul and features more than 650,000 square feet of retail, anchored by Whole Foods, along with restaurants and luxury residences.