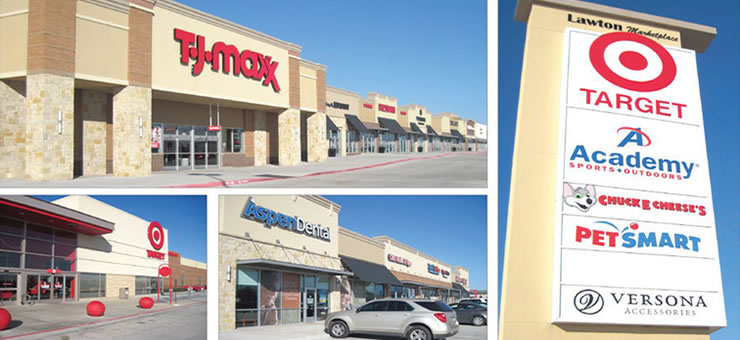 Lawton Marketplace was a to-be-built 180,000 square foot retail development with seven pad sites on a 41 acre site located along Quanah Parker Trailway (State Highway 62), the primary east-west thoroughfare in Lawton and the major east-west highway to Altus and western Oklahoma. Lawton Marketplace anchors a newer, more diverse and significantly more convenient retail trade area on the west side of town, a location situated in Lawton's path of growth and one that benefits from substantially higher demographics. In addition, nearby Fort Sill has injected over $1.9 billion into the state and local economies and serves as an economic anchor for the MSA. Due to its location along State Highway 62, Lawton Marketplace is a dominant regional power center, drawing customers from a trade area that extends more than 30 miles and includes parts of southwest Oklahoma City and North Texas.
Lawton Marketplace is shadow-anchored by Target, a new retailer within Lawton and one that will anchor a considerable retail trade area for decades to come. The presence of Target will directly benefit other retailers within Lawton Marketplace as a result of substantial additional traffic at the center, generating an abundance of cross shopping.
HPI signed leases, letters of intent, received corporate approval and were in the final rounds of lease comments with the following users: Michael's/Jo-Ann, Famous Footwear, Kirklands, Dress Barn, Lane Bryant, TJ Maxx, PetSmart, Academy, and Chuck E. Cheese's. The project was approximately 84% preleased to national credit tenants and had eight out parcels available on N.W. 82nd Street in the prime retail corridor of Lawton. The project also had the potential for an additional phase.
The city was supportive of the project and agreed to enter into an agreement with HPI to offset infrastructure and public improvement costs associated with the development. The City will reimburse HPI with a portion of sales tax revenue derived from the center until HPI has been reimbursed $2,500,000.