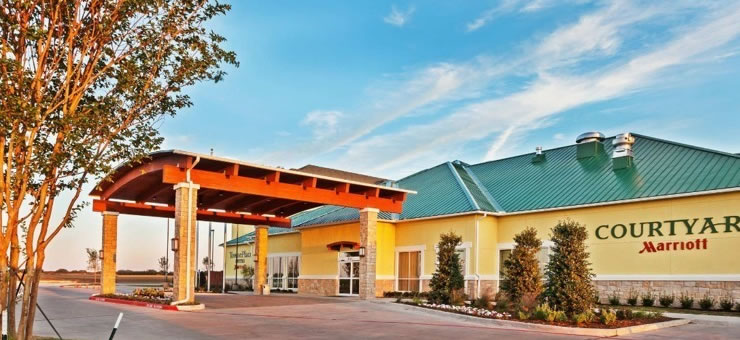 The Marriot Courtyard/TownePlace Inn in Abilene, TX is a venture between Silverado Interests, and Texas Western International. It is anticipated to open in the summer of 2015. This project will contain 152 rooms, four stories with 88,695 square feet of internal space, and be located on 4.142 acres. The property will be located in the north east quadrant of the city, fronting I-20. The physical address is 2101 Scottish Road, Abilene, Texas 79601. The location is near the intersection of I-20 and Hwy 351 which features a regional shopping center anchored by Wal-Mart. Restaurants located in the center: Jason's Deli, Chili's, Cracker Barrel, and Chicken Express. The site is in close proximity to several other premium brand competitors which, in Western's opinion, anchors the area as "The Hospitality" center for Abilene. In summary, the site offers high visibility from I-20, with convenient access to area highways, dining establishments, and shopping.
The Abilene metropolitan area currently maintains an inventory of approximately 2952 rooms. The "upscale" market segment consists of the following properties: Hampton Inn & Suites, Holiday Inn Express, Residence Inn by Marriot, Hilton Garden Inn, and Courtyard by Marriot comprising 447 keys; 16% of the market total. Average REVPAR for these properties in 2013 – $75.44 (Texas Hotel Performance Factbook 2013 Annual report).
In Western's opinion, analyzing the percentage of "upscale" properties as compared to the overall supply, shows there is room to expand in this segment. The dual brand concept of this project will afford our guests the option to enjoy two of Marriott's premium brands in either the extended stay format (TownePlace), or upscale select service with new brand enhancements in dining and technology designed to provide business travelers a genuine "stress free" stay (Courtyard). Additionally, the extended stay TownePlace Inn guests may choose to amplify their guest experience by utilizing the Courtyard dining option on a "pay as you go" basis, all under one roof for maximum flexibility.