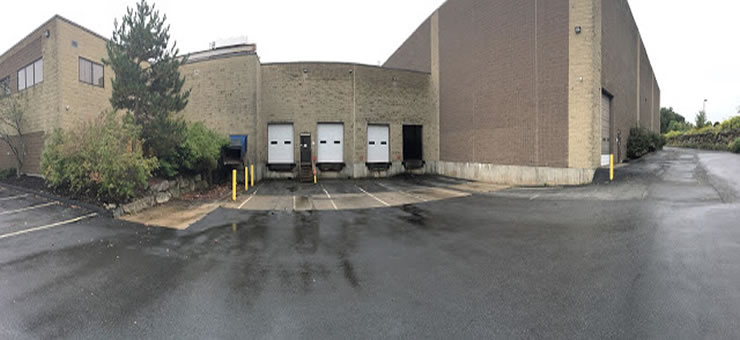 This opportunity was for the acquisition of an existing 52,216 square foot office/warehouse industrial building and convert it into a multi-level class "A" institutional quality climate-controlled self-storage facility. The 4.47-acre property is in Peabody, MA, a suburb of Boston, one of the finest core real estate markets in the country. The subject property is in a fully developed southern section of Peabody located along Summit Street and Centennial Drive. The site has easy access from both the west and east bound Yankee Division Highway. The subject property is located approximately 1200' from Boston Children's Hospital at Peabody and approximately 1500' from the Boston Marriot Peabody. Additionally, there are many medical and health related service employers near the subject property. The site is situated on the west side of Summit Street, with 200 feet of visible frontage. Summit Street is a highly traveled two-lane main roadway (traffic counts of approximately 26,000 vehicles daily) and has asphalt sidewalks, granite curbs/gutters and mature well maintained landscaping.
The Property
The 4.47-acre subject property is located at 137 Summit Street Peabody, MA 01960. It is a two-story structure constructed of solid masonry, decorative block and has steel truss joist supporting the roof that is covered with a rubber membrane. The subject property consists of approximately 52,216 SF of existing improvements with clear ceiling heights of 24' to 40'. The space is delineated as follows: first level footprint of 40,360 SF and second level in the amount of 11,856 SF. This clear height will allow two to four floors of climate controlled space to be constructed. Overall the building is in good to very good condition. The property is well-positioned with substantial frontage and visibility from Summit Street and easy access from both the east and west bound Yankee Division Highway. Selected daily traffic counts last measured in 2015 available from the Massachusetts Department of Transportation are as follows: 1.) North/East bound Yankee Division highway near subject property – 46,348 vehicles 2.) South/West bound Yankee Division highway near subject property – 49,841 vehicles Traffic counts for Summit Street fronting the subject property are approximately 26,000 vehicles daily. The subject property is most easily accessed and is 2 minutes or less from the Yankee Division Highway using either the North/East bound or South/West bound Exit 28 off-ramps. The property is surrounded by commercial/industrial and some retail to the west, and residential with some retail/commercial/industrial to the north, east and south. Boston Children's Hospital, Peabody and Lahey Medical Center, Peabody, two major medical centers in Peabody are located just north and northeast, respectively from the subject property. The subject property is located within Centennial Business Park, the area's premier business park with many world-class companies located in the Park. These include Analogic Corp, Zeiss Microscopy, Summa (Vinyl Cutters), Cornell Orthotics and Prosthetics, BMW, Weston and Sampson (Design Engineers), and Equifax (Credit Bureau). The Northshore Mall is located approximately 1.25 miles northeast from the subject property. The city of Peabody, MA civic center (Peabody Civic Center Historic District, "The District") is located approximately 1.25 miles east of the property. The District is located on Chestnut, Church, Foster, Franklin, and Lowell Streets in Peabody, MA. It includes buildings in the traditional civic heart of Peabody, including City Hall, St. John the Baptist Roman Catholic Church and the Knights of Columbus fraternal organization. The District was added to the National Register of Historic Places in 1980.
Demographics 
Peabody is a city in Essex County, Massachusetts and is in the North Shore region of Massachusetts. By locals it is considered as North Shore Boston, a bedroom community to Boston. Metropolitan Peabody, which includes Peabody, Salem and Beverly, MA had an estimated population of 760,200 in 2015. Peabody is wedge-shaped, with the city center located in the wider southeast end. The neighborhood of South Peabody lies south of it, and the more suburban neighborhood of West Peabody lies to the northwest of the city center. Peabody's center is 2 miles from the center of Salem, is 15 miles northeast of Boston, 18 miles west-southwest of Gloucester and 18 miles southeast of Lawrence. Peabody is bordered by Middleton to the northwest, Danvers to the northeast, Salem to the east, Lynn to the south and Lynnfield to the west.
Selected 2016 demographics within the 3-Mile radius to the subject property are as follows:
Population – 94,066
Average Household Income – $89,453
Median Household Income – $69,087
Total Housing Units – 41,108 (60.8% owner occupied/39.2% renter occupied)
Economy 
Peabody's top three industries are Technology, Health Care, and Financial Services. Peabody is a vibrant mixture of the historic and the new. Peabody has found creative new uses for the buildings left over from the tanning industry (the process of treating skins and hides of animals to produce leather), built the North Shore's largest shopping mall, and created a high-tech business and industrial park the envy of any community. Peabody is a well-balanced mixture of commercial and residential and a blend of development and open green spaces. Peabody is strategically located at the crossroads of Route 128, I-95 and Route 1, and is only 15 miles to Boston and Logan International Airport. With a quality of life that attracts and retains employees, a competitive wage structure, higher educational attainment and enrollment, Peabody is an ideal location for businesses. The Peabody-Salem-Beverly, MA unemployment rate as of December 2016 was 2.5%.
Major employers headquartered in the City of Peabody include the following:
Analogic Corporation
Christianbook.com
Communication Ink
Expeditors Tradewin LLC
Renaissance Gardens-Brooksby
Cardinal Health
Converge
JEOL USA Inc.
Kindred Hospital-Boston North
Lahey Medical Ctr-Peabody
Sears
US Foods
Northshore Mall
The Property and the Competition 
The population within the subject property's 1, 3, and 5-mile radius is 9,248, 94,066, and 290,085 respectively. The business plan for the subject property is to add mezzanine level climate controlled self-storage of 66,718 gross SF to the existing 52,216 gross SF building, generating 89,475 Net SF of climate controlled space (1,053 units/average 84.97 SF/unit). There is approximately 496,000 SF of climate controlled self-storage competition within the 3-mile radius of the subject property (approximately 63% of the total self-storage competition within the 3-mile radius) – thirteen competitive self-storage properties, six of which offer climate controlled self-storage. These properties would be inferior to the proposed project and range in quality from a "C-" to "A". The competitive properties include one Life Storage facility, located 2.21 miles from the subject property, one Extra Space facility located 2.99 miles from the subject property, and three Public Storage facilities located 2.20 miles, 2.40 miles, and 2.49 miles, respectively from the subject property. There are eight additional non-REIT/non-Public facilities in the three-mile. The proposed project would be the highest quality facility with superior access and visibility within the 3-mile radius. The self-storage space in the 5-mile radius is 1,334,000 (851,000 SF of climate controlled self-storage/482,000 SF of non-climate controlled self-storage), or 4.60 total SF per capita and 2.93 climate controlled SF per capita indicating a significantly under-supplied market. Given the subject property's frontage/visibility on Summit Street, easy access from both the west bound and east bound Yankee Division Highway, significantly undersupplied climate controlled self-storage market relative to five-mile population, marginal quality of existing competitive product, the 3 and 5-mile population radius, and its core market location, the subject property represents a compelling self-storage conversion opportunity.