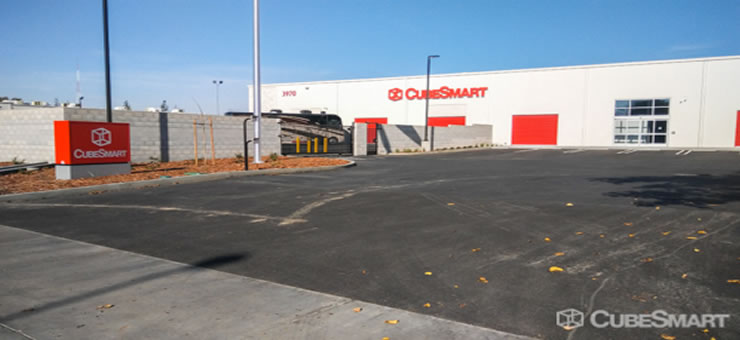 This opportunity was for the re-development of an existing structure that will be converted to an institutional quality climate-controlled building, which will require approximately 9 months of construction. Additionally portions of the perimeter of the existing structure will be utilized for RV/Boat/Auto parking spaces of varying sizes. There are eight competitive projects in the three-mile radius of the subject property, with an estimated existing total supply of 464,000 SF or 3.91 SF per capita, which indicates a significantly under-supplied market. In addition, a majority of the competitive properties in the three-mile radius of the subject property are considered inferior class "B" and "C" facilities.
The 5.32 acre subject property is located in Sacramento, California. The subject property consists of approximately 108,000 SF of existing improvements and is in average overall condition. The existing building is concrete-tilt construction with a ceiling height clearance of 22'-24'. The property is extremely well-positioned with substantial frontage and visibility from Interstate 80. The subject property's design, construction and existing improvements make it an ideal candidate for a conversion to an institutional quality state-of-the art climate controlled self-storage facility.
Sacramento is the capital of California and the seat of government of Sacramento, County. Sacramento is the sixth-largest city by population in California and is located approximately 88 miles northeast of San Francisco. In the 2010 United States Census, Sacramento had a population of 466,488 and as of 2014 the city's population was approximately 485,199. Estimated 2014 median household income was $50,661. In the 2010 United States Census there were 190,911 housing units of which 86,271 (49.4%) were owner-occupied, and 88,353 (50.6%) were occupied by renters. The homeowner vacancy rate was 2.8% and the rental vacancy rate was 8.3%. The median HH income for an owner occupied home is $71,684 and renter occupied home is $33,850.
The top employer in Sacramento is State and County Government with other major employers such as: Sutter Health, Blue Diamond Growers, Aerojet, and Teichert. As of 2014 the top 8 employers in the city of Sacramento were as follows:
State of California – 72,220 employees
Sutter Health – 11,242 employees
Sacramento County – 10,770 employees
U.S. Government- 9,906 employees
UC Davis Health System – 9,905 employees
Kaiser Permanente – 9,247 employees
Dignity Health/Catholic Healthcare West – 7,069 employees
Intel – 6,633 employees
We were attracted to this opportunity based on the current compelling self-storage industry fundamental trends, attractive location and traffic counts of this project, and the large spread between what the project is being developed to and the current pricing of where similar projects are trading.