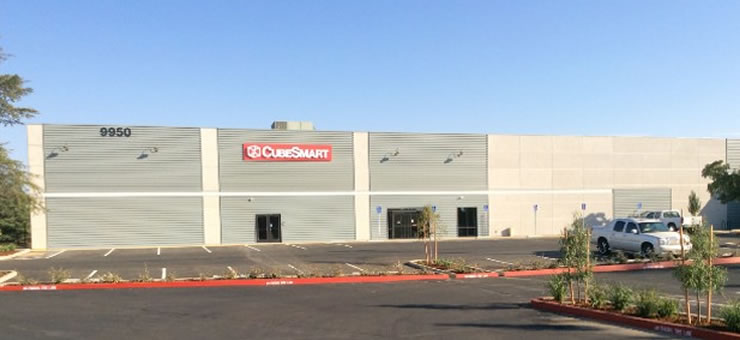 This opportunity was for the acquisition of an existing warehouse building totaling approximately 128,341 square feet and convert it to a class "A" institutional quality climate-controlled self-storage facility.  The 5.68-acre property is in Rancho Cordova (Sacramento), CA.  The subject property is strategically positioned at the northwest intersection of I-50 and Mather Field Road.  The property is easily accessible (3 minutes or less) from both the east bound and west bound I-50 using the Mather Field Road off-ramp.  Visibility from both the east and west bound I-50 is excellent.
The Property
The 5.68-acre subject property is located at 9950 Mills Station Road Sacramento, CA 95827. The subject property consists of approximately 128,341 SF of existing improvements, including an approximate 38,560 SF two-story office, and is in above-average overall condition. The building was originally built for the Ross Perot Company Electronic Data Systems (EDS) and housed a sophisticated hi-tech computer manufacturing operation. The original design/construction included enhanced air conditioning and other mechanical/electrical enhancements required for a "clean" computer manufacturing facility. It was later leased to an envelope manufacturer. The existing building is of concrete-tilt construction with a ceiling height clearance of 20'-24'. The property is extremely well-positioned with substantial frontage and visibility from Interstate 50 (I-50) (to the north). The subject property is most easily accessed and is 3 minutes or less from both the east and west bound Mather Field Road off-ramps off Interstate 50. High traffic counts (approximately 172,000 vehicles daily on the I-50) further enhances the site's potential. The property is surrounded by primarily residential, (with some commercial and retail) to the north, south, east and west. The subject property's design, construction and existing improvements make it an ideal candidate for a self-storage adaptive reuse/conversion to a modern state-of-the-art climate controlled self-storage facility.
Demographics 
Sacramento is the capital of California and the seat of government of Sacramento, County. Sacramento is the sixth-largest city by population in California and is located approximately 88 miles northeast of San Francisco. In the 2010 United States Census, Sacramento had a population of 466,488 and as of June 30, 2015, the city's population was estimated to be 480,105. Estimated average household income is $64,513. In the 2010 United States Census, there were 190,911 housing units of which 86,271 (49.4%) were owner-occupied, and 88,353 (50.6%) were occupied by renters. The homeowner vacancy rate was 2.8% and the rental vacancy rate was 8.3%. The median HH income for an owner-occupied home is $71,684 and renter occupied home is $33,850.
Selected 2015 demographics within the 3-Mile radius to the subject property are as follows:
Average Household Income – $74,919
Median Household Income – $52,022
Total Housing Units – 36,332 (96.8% Occupied/3.2% Vacant)
Owner versus Renter Mix – 54.7% Owner Occupied; 45.3% Renter Occupied
Economy 
Per CoStar Group, employment growth has trended and will continue to trend favorably. Government, education and health services, and professional and business services are leading the way in job creation, which is crucial since these three sectors combine to make up over half of the metros employed labor force. Professional and business services have been the largest contributor to job growth since the bottom of the downturn and with over 15,000 jobs added, total employment is already 8.3% above the previous peak. Most these jobs are concentrated in administrative and support services, as the metro's low business costs attract firms with back-office operations. Education and health services, the second largest job creator over the recovery, is projected to continue to post above average growth along with modest gains from local and state government, which is the largest component of the metro's workforce. 
The top employer in Sacramento is State and County Government with other major employers such as: Sutter Health, Kaiser Permanente, Dignity Health and Intel Corporation. Per the City of Sacramento Comprehensive Annual Financial Report for the Fiscal Year Ended June 30, 2015 the top 10 employers in the city of Sacramento were as follows:
State of California – 74,329 employees
Sacramento County – 10,598 employees
UC Davis Health System – 9,706 employees
U.S. Government – 9,668 employees
Sutter Health – 8,817 employees
San Juan Unified School District – 7,523 employees
Kaiser Permanente – 6,464 employees
Dignity Health – 6,286 employees
Intel Corporation – 6,200 employees
Elk Grove Unified School District – 5,758 employees
The Sacramento Bee, in an article published September 10, 2015 indicates that "Sacramento's economy is on the verge of making a full recovery from the recession, per a new forecast from Sacramento State." The Sacramento Business Review, produced by the university's College of Business Administration and the Chartered Financial Analyst Society of Sacramento said "the region will likely eclipse the 2007 peak level of employment sometime later this year or early next year." Sacramento's nonfarm payrolls peaked at 924,700 jobs in June 2007. As of July 2015, the region had 911,500 jobs, 13,200 jobs shy of the peak. 
Furthermore, home sales are up 9% year over year and inventory is less than three months of sales. Developers are responding and new single family permits are up 60% since the end of 2014. Another surge should come from the lifting of the 2008 Natomas building moratorium, which will allow for residential and commercial construction beginning in the summer of 2016. This will be limited in the first year and a half as the City tries to avoid an unsustainable surge in building. Consistent with historic trends, Sacramento is projected to draw some of the strongest per capita migration in California with the metro's population growing by over 100,000 through 2019 making it one of the fastest growing metros in California. Finally, a growing local economy combined with genuine Downtown development and a nearly empty construction pipeline has lifted Sacramento to the top of the nation in annual apartment rent growth. The Sacramento apartment market lead the nation in Q2 2016 with an annual effective rent growth of 10.4%, almost three times the national average. Demographics is another big factor affecting rising apartment rents. Not only is there a shortage of new homes to buy, but some consumers, particularly millennials, aren't that interested in greenfield developments. With that generation's bent toward urban living, apartments, even when rents are rising, are the obvious choice in Sacramento. The factors explain how a project like Bay Miry's 16 Powerhouse (a mixed-use development including 50 apartments for rent in downtown Sacramento) which finished in 2016 filled up entirely in about four months. Rents for the 50 apartments ranged from $2,000 per month to $4,500 per month. Rising apartment rents and a growing job base translates to a strong demand for multi-family investment and development for Sacramento for the remainder of 2016, continuing into 2017. This is favorable for self-storage market due to apartment housing with minimal storage space and transitory nature of renters. 
The Property and the Competition 
The population within the subject property's 1, 3, and 5-mile radius is 21,469, 93,935, and 219,710 respectively. The business plan for the subject property is to utilize the 128,341 SF of gross building area in the existing building and portions of unused property surrounding the building. The current plan contemplates a single-story build-out of the interior of the existing building. The existing two-story office will also be converted to climate controlled self-storage. The planned yield is 95,300 SF of climate controlled NRA (965 units/average 99 SF/unit), and 59 outdoor RV/Parking spaces (various sizes). This analysis assumes a 1,275 SF office area. There is no climate controlled self-storage competition within the 3-mile radius of the subject property – twelve competitive self-storage properties, all non-climate facilities and these properties would be inferior to the proposed project and range in quality from a "C-" to a "B+". The competitive properties include three Public Storage facilities, located 0.36 miles, 2.97 miles and 2.97 miles, respectively from the subject property, one CubeSmart facility located 1.30 miles from the subject property and one U-Haul facility located 0.38 miles from the subject property. There are seven additional non-REIT/non-Public facilities in the three-mile. Occupancy rates for the facilities in the three-mile is 90%+, including a 95%+ occupancy rate for the CubeSmart facility located 1.30 miles from the subject property. The proposed project would be the highest quality facility within the 3-mile radius. Assuming 54,000 SF of NRA per property (assumption based primarily on individual building measurements using Google Earth) the self-storage space in the 3-mile radius is 648,000 SF, or 6.90 SF per capita (all non-climate controlled NRA) indicating a solid conversion opportunity, especially considering the lack of climate controlled self-storage in the 3-mile radius. Given the subject property's excellent visibility and easy access from the I-50, undersupplied market relative to population, marginal quality of existing competitive product, the 3 and 5-mile radius population of the subject property, strong demographic and growth trends in the overall MSA, the subject property represents a compelling self-storage adaptive reuse/conversion opportunity.