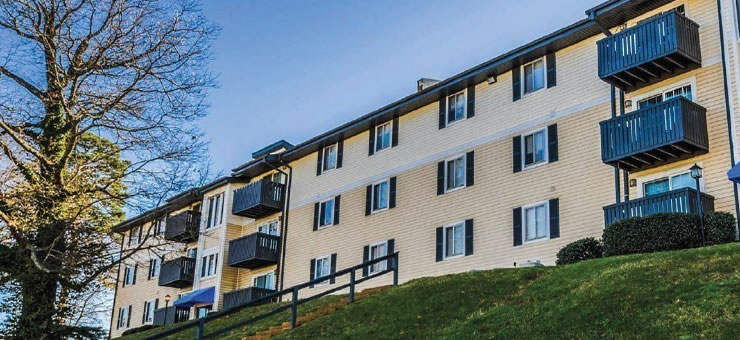 The Riverview Grande is a venture between Silverado Interests and GVA. It is a 269-unit, garden style, class-B apartment complex located on 15.5 acres of land in the desirable, North Shore area of Chattanooga, TN. comprised of 314,972 rentable sq. feet of space, Riverview Grande is located only four miles North of downtown Chattanooga. Originally constructed between 1964 and 1973, this low-density community offers a proven, value-add investment opportunity. The complex has a multitude of finishes and rent premiums based on different renovation combinations. The project has been well-maintained, benefitting from $3.4M of renovations over the past several years. Our partner plans to increase NOI with $1.7M in further renovations to meet the standard of the "GVA finish." GVA will manage the property and renovations in-house. GVA Currently owns and manages 9 communities (1,028 units) in/around Clarksville and Nashville, TN. In-house management provides reduced costs and alignment of interests.
Interior renovations include:
• Flooring
• Bi-fold doors
• New appliances
• Backsplash
• Granite countertops
Exterior renovations include:
• Tennis court
• Pet park
• Fitness center
• Pool area
• Clubhouse upgrade
• Solar screens
Chattanooga's strategic location in Southeast Tennessee makes the city a prime position in the southeastern and eastern half of the US. Chattanooga sits at the junction of three interstates, I-24 (to Nashville), I-59 (to Birmingham), and I-75 (to Atlanta/Knoxville). The Chattanooga Airport supports several large airlines including Delta and US Airways and routinely sends flights to surrounding cities. The city is also well known for its beautiful scenery, boasting over 75 parks, 3 rivers, and the national attraction, Lookout Mountain. Other local attractions include the Tennessee Aquarium, Civil War battlefield sites, the African American Museum, the Appalachian Trail and a claim to the world's fastest internet service. Outdoor enthusiasts enjoy Chattanooga's extensive mountain biking, hiking, world-class rock climbing, and paddle boarding; making Chattanooga a two-time winner of Outside Magazine's Best Town' in America.