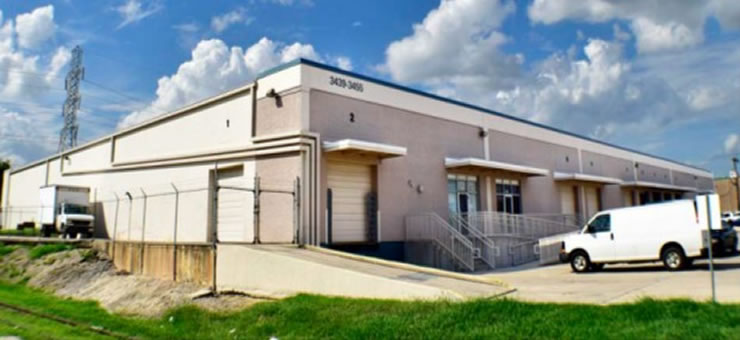 This was a unique opportunity to acquire a critical mass of functional industrial buildings in a fast growing market at a below replacement cost basis. The Portfolio boasts the advantage of having been leased and managed by one of the premier operators of industrial real estate worldwide. Silverado's partner acquired a portfolio of light industrial properties. Located in San Antonio, Texas, the Portfolio was comprised of 11 Class A and B industrial buildings totaling 939,242 square feet. The portfolio was 98% occupied with a number of nationally recognized tenants at the time of acquisition.
Portfolio Profile
9 buildings are multi-tenant occupied and 2 are single-tenant occupied
Building sizes range from 45,180 square feet to 133,125 square feet
Tenant suite sizes range from 4,500 square feet to 133,125 square feet, offering a wide range of options for new tenants as well as accommodating the growth of the existing tenant base
Warehouse clear span heights range from 18' to 20'
Cross-Dock, rear-loading and front-loading offer tremendous leasing flexibility
The buildings' construction specifications of concrete tilt wall design provide the required functionality to effectively outperform their surrounding competition
Low office build-outs – 10% average office percentage
Strategic Location in the Fastest Growing Metro in Texas
Since 2000, the San Antonio Metro population has increased from 1.7 M to 2.1 M today – a 24% increase in 15 years. By 2050, both Austin and San Antonio are expected to double in population, forming one MSA. U.S. Census estimates predict the Austin – San Antonio population will reach 5.7 million people by 2030, nearly the size of Dallas / Fort Worth today. San Antonio offers a key location on Interstate 35, rail access and airport infrastructure to support local and regional distribution.
Strong Occupancy with Upside Potential
The 98% occupied portfolio has an in-place NOI of approximately $2.9 Million and is expected to grow approximately 78% over the 10 year hold period due to increasing demand from small to medium sized users, market rental growth, contractual rent bumps, below market in-place rents and vacant lease-up opportunities.
Irreplaceable Locations
The majority of the portfolio is focused along the I-35 corridor, which is the critical artery from Mexico and through the State of Texas. Locations along I-35 will prove to be irreplaceable in the near future as the path of growth continues between San Antonio and Austin.
San Antonio Industrial Market
The San Antonio industrial market includes approximately 36 million square feet of space primarily located on the north side of the metro area and along the I-35 Corridor. The fourth quarter of 2015 marked the 20th straight quarter of positive net absorption for San Antonio, and brought the total net absorption for the year to 1.3 million square feet.
Critical Mass
Opportunity to invest in a critical mass of real estate in the San Antonio market. In a single transaction, investors can achieve a sizable allocation in a critical Texas market which would otherwise take years to assemble.