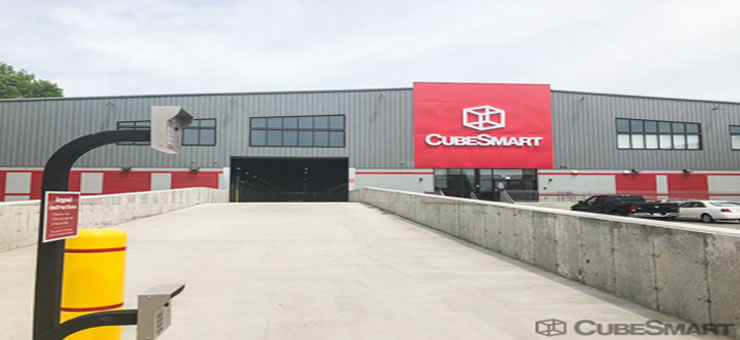 This opportunity was for the acquisition of an existing 140,240 square foot warehouse building along with a total of seven parcels of real property approximating 7.39 gross acres in the aggregate. The existing two story metal/concrete structure will be converted to an institutional quality climate-controlled self-storage facility. Additionally, portions of the perimeter of the existing structure will be utilized for RV/Boat/Auto parking spaces of varying sizes.
The 7.39-acre subject property is comprised of 7 separate parcels with two parcels located on the north side of Taylor Street (Northside Parcels), which includes the 140,240 SF warehouse as well as a vacant adjacent lot. The building was originally built in. The property is well-positioned with substantial frontage and visibility from Taylor Street and easy access from both the east and west bound I-291. Selected daily traffic counts last measured in 2015 available from the Massachusetts Department of Transportation are as follows: 1.) Armory Street east bound off-ramp on I-291 – 10,763 vehicles; 2.) Armory Street west bound off-ramp on I-291 – 3,305 vehicles; 3.) East bound I-291 at Chestnut/Dwight Street overpass – 48,266 vehicles; 4.) West bound I-291 at Chestnut/Dwight Street overpass – 48,253 vehicles; 5.) Traffic counts for Taylor Street are not readily available. The property is surrounded by residential with some commercial and retail to the north, east and west. The Metro Center of Springfield, MA is located approximately ½ mile south of the property. The Metro Center features a majority of Western Massachusetts' most important cultural, business, and civic venues. Metro Center includes Springfield's Central Business District, its government center, its convention headquarters, and it is becoming an increasingly popular residential district among young professionals and empty-nesters. The MGM Springfield is a $950 million resort casino under construction in Springfield, MA and is located at the south-end of the Springfield Metro Center. The casino is scheduled to open in late 2018. MGM has pledged to create 3,000 permanent jobs to benefit the local community job market. Other selected city of Springfield projects either underway or planned include the following:
Casino Downtown Trolley Service – Stops to include Union Station, MassMutual Center, Basketball Hall of Fame, Civic Institutions, Hotels
Union Station Restoration – Includes $95 million restoration of terminal building, activation of 66,000 SF of leasable commercial space, $88 million in track bed improvements along the Knowledge Corridor, construction of 377 space, on-site parking garage. Scheduled for completion in July 2016
I-91 Corridor Improvements – $265 million of improvements scheduled for completion in the Fall/Winter of 2017. Improvements extend from I-291 interchange (to the north) to State Street (to the south).
Silver Brick Lofts – $17 million renovation of 266 market rate/downtown apartments
MassMutual Center expansion – Includes replacement of existing Civic Center Parking Garage expected to increase MassMutual Center activity
Knowledge Corridor Commuter Rail Network – 2016 introduction of commuter rail network from Springfield, MA to New Haven, CT
Springfield Innovation Center – Part of the Transformative Development Initiative (TDI) formed to attract innovation oriented businesses, rebranding of the downtown entertainment district, create more market rate upper floor urban housing, provide park and infrastructure upgrades
Springfield is a city in western New England and the seat of Hampden County, Massachusetts. Springfield sits on the eastern bank of the Connecticut River. Metropolitan Springfield, as one of the two metropolitan areas in Massachusetts (the other being Greater Boston) had an estimated population of 698,903 in 2015. Population for the city of Springfield was 154,341 as of July 1, 2015. This figure does not include many of the 17,000 plus undergraduate and graduate university students who reside in Springfield during the academic year. Median household income for the Springfield Massachusetts metro area was $50,916 in 2014. Median family income for the Springfield Massachusetts metro area was $64,576 in 2014.

Selected 2015 demographics within the 3-Mile radius to the subject property are as follows:
Population: 139,639
Average Household Income: $47,785
Total Housing Units: 56,921 (38.8% owner occupied/61.2% renter occupied)
Springfield's top five industries are Trade and Transportation; Education and Health Services; Manufacturing; Tourism and Hospitality; and Government. Springfield is considered to have a "mature economy," which protects the city to a degree during general economic cycles. The Springfield unemployment rate as of April 2016 was 5.2%.
The City of Springfield is the economic center of Western Massachusetts. It features the largest concentration of retail, manufacturing, entertainment, banking, legal and medical groups in Metropolitan Springfield. The city is home to the Commonwealth of Massachusetts' largest Fortune 500 Company, Mass Mutual Financial Group. The city is also home to Baystate Health, one of the largest health systems in New England with over 10,000 employees. Other companies and organizations headquartered in the City of Springfield include the following:
Merriam-Webster – Publisher of the original Webster Dictionary. Founded in 1828
Peter Pan Bus Lines – Long-distance bus carrier serving the northeastern United States
Smith & Wesson – Founded in 1852, Smith & Wesson is America's largest producer of handguns
The American Hockey League – The primary development league for the National Hockey League
National Basketball Association Hall of Fame
Big Y – A regional supermarket chain operating more than 50 supermarkets throughout Massachusetts and Connecticut
Six Flags New England – Amusement Park, located in Agawam, MA, approximately 5 miles south from subject property
CRRC MA USA – Chinese Rail Car Maker, located in Springfield, MA, approximately 5 miles northeast from subject property. CRRC has a contract to manufacture 284 subway cars for Boston's mass transit system. Their manufacturing facility is located at the former Westinghouse site in East Springfield, MA. CRRC expects to create 300+ new jobs as a result of the subway car contract. Production under this contract is expected to begin in March 2018 and is expected to last five years
With 25 universities and colleges within a 15-mile radius from Springfield, including several of America's most prestigious universities and liberal arts colleges, and more than six institutions within the city itself, the Hartford-Springfield metropolitan area has been dubbed the Knowledge Corridor by regional educators, civic authorities, and businessmen – touting its 32 universities and liberal arts colleges, numerous highly regarded hospitals, and nearly 120,000 students. The Knowledge Corridor universities and colleges provide the region with an educated workforce, which yields a yearly GDP of over $100 billion – more than at least 16 U.S. States. Hartford-Springfield has become home to a number of biotech firms and high-speed computing centers.
The population within the subject property's 1, 3, and 5-mile radius is 25,752, 139,639, and 246,289 respectively. The business plan for the subject property is to build out the 140,240 gross SF building generating 104,055 Net SF of climate controlled space (1,053 units/average 98.82 SF/unit). There is limited climate controlled self-storage competition within the 3-mile radius of the subject property – six competitive self-storage properties, two of which offer climate controlled self-storage. All of these properties would be inferior to the proposed project and range in quality from a "C-" to a "B+". The competitive properties include one Uncle Bob's facility, located 0.64 miles from the subject property, and one U-Haul facility located 1.75 miles from the subject property. There are four additional non-REIT/non-Public facilities in the three-mile. The proposed project would be the highest quality facility within the 3-mile radius. Assuming 37,667 SF of NRA per existing competitive property (assumption based primarily on individual building measurements using Google Earth) and including the NRA for the subject property the self-storage space in the 3 mile radius is 330,000 SF (205,000 SF of climate controlled self-storage/125,000 SF of non-climate controlled self-storage), or 2.36 SF per capita indicating a deeply under-supplied market (especially considering the lack of climate controlled self-storage in the 3-mile radius). Given the subject property's frontage/visibility on Taylor Street, easy access from both the west bound and east bound I-291, undersupplied market relative to population, marginal quality of existing competitive product, the 3 and 5-mile population radius, Springfield Metro Center on-going and planned development and re-development, the subject property represents a highly compelling self-storage conversion opportunity.