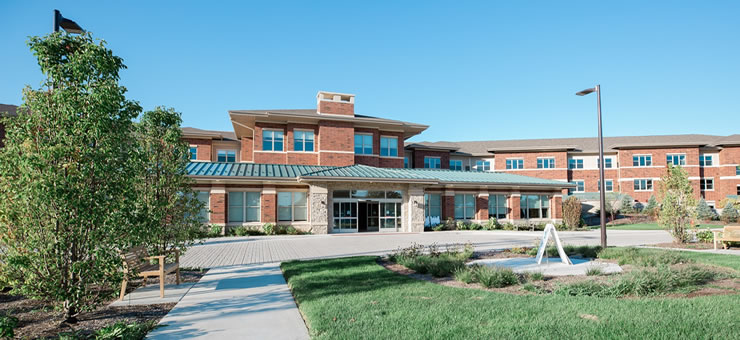 This project is the development of a combination assisted living and memory care facility. The Village of Wheeling is located in NW Lake County approximately 23 miles North of downtown Chicago, 10 miles North of O'Hara International Airport and along the west side of the I‐294 corridor. Wheeling enjoys a centralized location among the northern suburbs of Chicagoland with easy access to the Interstate System from several major east‐west traffic corridors including West Dundee Rd where the subject site is located. The site is situated along the north side of W. Dundee Rd, approximately one‐half mile west of the intersection with Milwaukee Ave, and directly across from the Village of Wheeling's municipal buildings. The proximity to retail, churches, municipal uses, and the Metra station will allow residents a great deal of independence and freedom, which is very important.
This project was begun in December of 2014, and is currently in development. LaSalle believes they will produce a 15% – 20% IRR for the investors in this property.
We were attracted to this project due to the strong track record of our partner, with whom we had teamed up with on twenty-one previous Alzheimer's projects. Our development partner's track record has provided for consistent success with Alzheimer's properties, maintaining occupancy levels close to 90 percent for all stabilized properties.
This, the twenty-third senior housing facility investment sponsored by Silverado, is being developed in a highly favorable supply/demand market. Specific to this project, Wheeling had an actual supply of 358 assisted living beds with a total projected need by LaSalle of 747 beds and an actual supply of 270 memory care bed with a total projected need by LaSalle of 1970. This translated to the market being underserved by around a two to one ratio in the assisted living space and a seven to one ratio in the memory care space, which provided for an excellent investment opportunity. We believe, based upon LaSalle's projections that the opportunity to invest with a proven development partner, with whom we have had success in the past, in a market that is underserved provides the opportunity to create a successful investment opportunity for our investors.