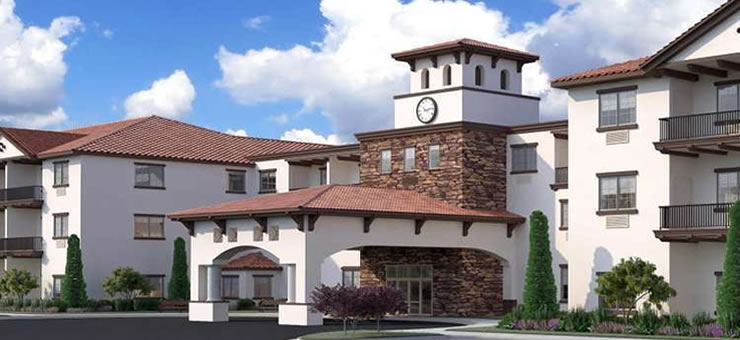 This project is the development of a 135-unit Independent Living campus. The campus will contain a three-story building with 135 units. Construction is anticipated to take 18 months, beginning in April 2017 and completing in September 2018.
The Modesto site was ideal to expand our partner's regional presence along Highway 99 in California's interior considering they owns and operates a memory care community in Fresno, just 90 miles southeast of Modesto. It's been their experience that in rural areas like Fresno and Modesto, the primary market area (PMA) extends beyond the five or ten-mile radius surrounding an urban location and can encompass the county. This is the case for Modesto, where the PMA encompasses Stanislaus County.
Further, Modesto was a clear choice because of the specific location of their site. Their site is located across the street from the area's largest, principal hospital, Kaiser Permanente-Modesto, which provides residents and their caregivers the assurance that high-quality medical services are nearby. Part of their consideration of this site in Modesto dealt with the opportunity to be first to develop next to hospital. Their Modesto site is also located near Highway 99, the area's major thoroughfare. Proximity to major thoroughfares allows residents, caregivers, and families easy access to our community as well as the numerous amenities located along Highway 99.
Additionally, their Modesto site is located near a plethora of amenities that residents, caregivers, and their families can enjoy. A few examples in Modesto–Costco (within1.2miles), World Market (within1.2miles), Bed Bath & Beyond (within1.4miles), the mall (within1.4miles). Immediately surrounding the examples listed above are an abundance of restaurants and other daily-living necessities.
During their analysis of demographic statistics, they look at several different factors to determine their Qualified Market, i.e., the portion of the overall market that qualify as residents after considering age, income, and proximity. The first factor they look at is proximity.
For a person to be included within our qualified market, that person must reside within that area around their site that it's most likely they will seek services or housing, e.g., memory care services or independent living arrangements. In rural areas like Modesto, the area around their site is expanded because experience shows that residents come from greater distances due to a lack of choices offered. For their Modesto project, they looked at all of Stanislaus County.
The next factor they look at is age. For independent living, they look at two age groups, 75-84 and 85+. For memory care, they look at three age groups, 65-74, 75-84, and 85+.
In the Modesto market area, they estimate, as of 2015, that there are 63,945 people ages 65-85+, which is allocated among our groups as follows–36,935 people ages 65-74; 18,873 people ages75-84; and 8,137 people ages 85+. Looking ahead, their 2020 projection shows an overall increase of people ages 65-85+ of 11,084 (17.3%), which is again allocated among their groups as follows–8,039 (21.8%) increase of people ages 65-74; 2,812 (14.9%) increase of people ages 75-84; and 233 (2.9%) increase of people ages 85+.
After pinpointing proximity and determining the number of age-qualified people within the overall market area, they ascertain the number of income-qualified people to further define our qualified market. In their demographic study, the Modesto market displays strong overall household income levels and housing values. The average household income level is approximately $61,000 as of 2015, and the average house value is approximately $218,000. Both these values meet their thresholds when determining whether to develop in a market.