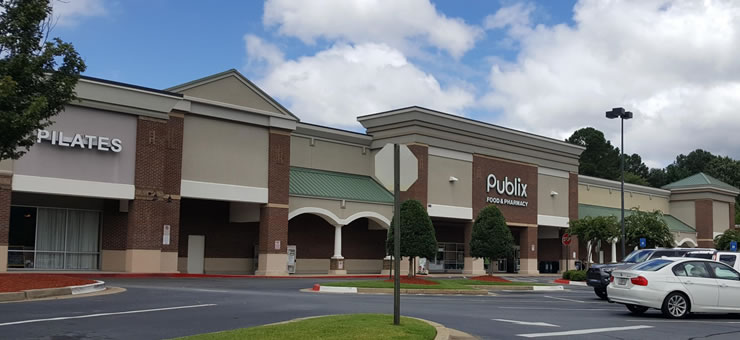 Village Shoppes is a 128,000 square foot Publix anchored shopping center in Woodstock, GA, a suburb about 10 miles North of Kennesaw. The center is at the T-intersection (26,400 VPD) of Holly Springs Road and East Cherokee Road. Strong housing growth surrounds the asset with over 2,000 homes being built within 3 miles of the property to complement the solid and moneyed existing demographics. Within a 3 mile radius of the property are 41,000 people with average incomes of $92,000 per year; this density and income is consistent with the 5 mile radius population of 121,000 people earning $93,000 per year on average. Additionally, Watermark Church is also nearing completion of a nearby 250,000 sf facility to accommodate their growing congregation which includes around 180,000 annual visitors. Less than 2.5 miles away, this area also boasts the CBL owned Outlet Shoppes at Atlanta which opened Phase I in 2013 and is currently completing Phase II expansion.
This attractive center was built in 2003 and is anchored by a Publix with term through the 10/31/2023 and sales of over 16.8M (approximately $375 per square foot) with continued rapid growth of at least $1,100,000 each of the last three years. There is no other Publix within a 5 mile radius, and this store is one of the newest of the area Publix stores with most of the other stores being mid 90s vintage. While there is significant upside through the 38,000 square feet of shop vacancy at the center, approximately two-thirds of the existing revenue is generated by Publix and Chase Bank which provides strong credit and stability to the income stream.
The Seller previously purchased East Cherokee as an REO asset from CW Capital in 2011 at only 50% occupancy and with Publix sales on only 12M (approximately $265 per square foot). With strong area growth, Publix sales have increased 40% since that time. In conjunction with this sales increase, occupancy at the property has also increased from 50% to 70% under the current ownership. Prior to the foreclosure, the property had a basis of over 18M with a loan of 15.8M. After waiting for area growth to provide a boon to Publix sales and after leasing a portion of the vacancy, the Seller is now more focused on other larger projects and is ready to harvest this asset.
PMAT has a strong history of similar lease up plays and already owns one Publix center in the North Atlanta market. Most recently, PMAT leased a 100,000 square foot Publix anchored center with similar sales volume in Fort Myers, Alico Commons, from 55% occupancy to over 93% occupancy in only nine months (occupancy was over 97% at the time that this property went under contract for sale only eighteen months after acquisition). In April of 2015, PMATpurchased a similar Publix anchored center with lower sales volume and a shorter term lease near Alpharetta, GA, and is already nearing stabilization and entertaining unsolicited offers from the high 6 cap to the low 7 cap range.
Although area grocery centers typically enjoy an occupancy in the mid-90s, PMAT has underwritten an occupancy only in the mid-80s due to the size of the center. They acknowledge that this center was probably over built in terms of total square feet. So they have modeled achieving such occupancy only after several years of zero lease-up and income growth other than scheduled rent bumps and, even then, at a "low cost' provider rent of only 12 NNN (with low NNNs at the property as well). Market rents for competing center are in the mid to high teens. Similar to their Alico Commons business plan, this strategy will allow them to offer prospects huge free rental periods followed by discounted rents until stabilization/sale that competing centers cannot match. Their leasing effort will thrive off of the surrounding housing growth and market momentum as they employ an owner led leasing strategy. They are an extremely hands on ownership team that provides for direct involvement from the principals of the company in executing the leasing strategy. The principals will literally "temporarily relocate" to this area for the first few weeks to develop further leasing momentum and shift historical inertia. They will be approaching every tenant in unanchored and inferior anchored centers and offering them free rent until their current lease rolls and additional incentives to relocate into our center at below market rents. They are willing to execute shorter term deals allowing us to roll the rents back out to mid-teens market rates upon renewals when they have significantly better occupancy and several more years for population to fill in the surrounding housing growth. They will also prospect tenants of other grocery anchored centers in the area for both new stores and the opportunity to relocate at incentivized terms. In addition to personally investing time in the market to shift inertia and reeducate prospects on the new opportunity, they will also work in conjunction with local leasing team that can provide an ongoing daily presence and a rolodex of other retailers throughout the Atlanta MSA that would consider additional locations. This asset will require an intensive leasing effort, creativity, and tenant/broker incentive play. This strategy is PMAT's core competency.